Coal production of Mongolia came in at 7.94 million tonnes in August this year, surging 159.61% year on year and rising 54.11% month on month, showed data from the National Statistical Office of Mongolia.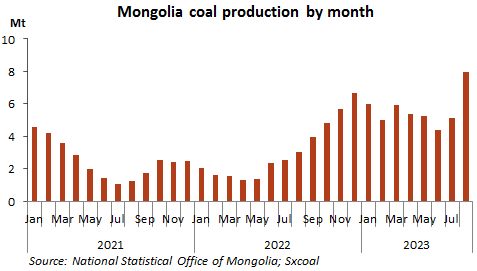 The country produced 44.97 million tonnes of coal in the first eight months of 2023, jumping 183.80% from the preceding year.
Mongolia's iron ore production was 845,900 tonnes in August, down 6.29% on the year but up 26.46% on the month. This included 545,700 tonnes of iron sand, down 29.29% year on year yet up 23.69% from July, and 300,200 tonnes of iron concentrate, soaring 129.16% from a year ago and up 31.84% month on month.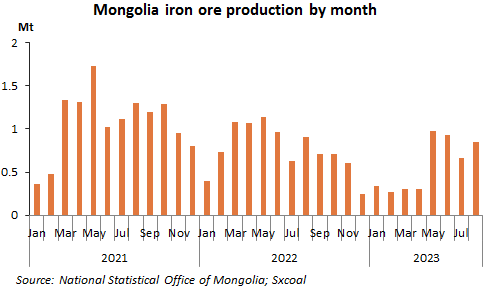 Production of iron ore in Mongolia totaled 4.64 million tonnes during first eight months, down 32.99% year on year. Iron sand output was 3.11 million tonnes, slumping 43.57% year on year and iron concentrate production was 1.53 million tonnes, up 8.39%.
(Writing by Riley Liang Editing by Emma Yang)
For any questions, please contact us by inquiry@fwenergy.com or +86-351-7219322.