China Shenhua Energy Co., Ltd., the country's largest listed coal producer, reported its commercial coal production rose 7.5% on the year and 1.9% month on month to 27.3 million tonnes in August.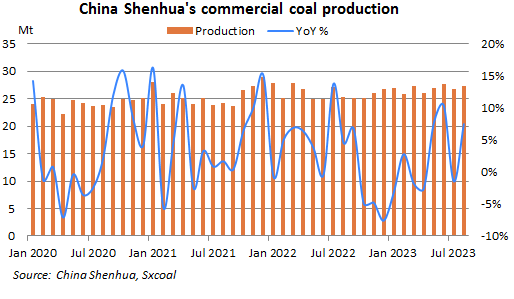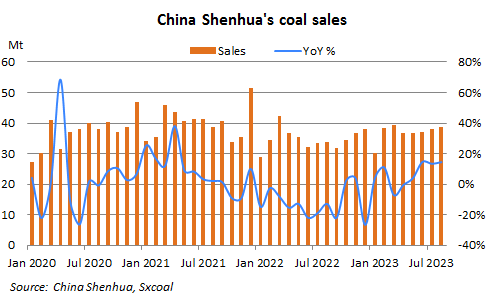 Coal sales increased 14.5% from the year prior and 1.8% on the month to 38.7 million tonnes last month, the company said in its monthly operation report on September 16.
In the first eight months of this year, the company produced a total 214.8 million tonnes of commercial coal, up 2.2% from a year ago, while sales were 294.6 million tonnes, rising 6.2% from the previous year.
The giant miner's coal vessel loadings at Huanghua port totaled 16.9 million tonnes in August, up 7% year on year but down 12% month on month; volumes at the company's Tianjin Coal Dock were 3.4 million tonnes, down 19% year on year and 2.9% from a month ago.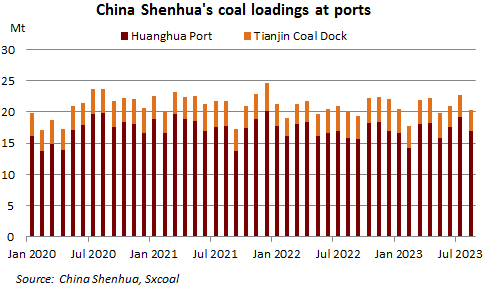 Meanwhile, the firm's power generation totaled 19.16 TWh during the month, dropping 13.1% year on year, sending the total to 139.69 TWh during January-August, increasing 11% on the year.
Its power sales were 17.95 TWh in August alone, a 13.5% fall on the year, while total sales reached 131.3 TWh over the first eight months, rising 11.1% year on year.
(Writing by Riley Liang Editing by Harry Huo)
For any questions, please contact us by inquiry@fwenergy.com or +86-351-7219322.